Online lending platform providing working capital loans for e-commerce sellers. Businesses need to create an account in order to fund inventories by applying for working capital loans via connecting with multiple lending partners. Repayment of loans begins when the business starts selling inventory products to customers. Found in 2019.
Onramp Funds operates within the B2B sphere, catering to clients in the Retail, FinTech, and Financial Services market segments. In a competitive landscape, some of their key competitors include:
SellersFunding: Founded in 2017 and headquartered in New York City, SellersFunding is a Series A company.
Wayflyer: Established in 2019, Wayflyer is based in Dublin and operates as a Series B company.
Payability: A financial institution located in New York City, Payability offers its services in the same domain.
These companies share the B2B space within the Retail, FinTech, and Financial Services sectors, competing to provide innovative funding solutions and services to businesses in need.
Limited Online Presence: Onramp Funds had minimal to no followers and lacked a distinct social media identity.
Intense Competition: Onramp faced formidable competition from prominent brands boasting strong and well-established social media presence.
Inconsistent Content: The client encountered challenges in sustaining a consistent posting schedule and lacked captivating and visually appealing content.
Lack of Content Plan for Buyer Personas: Onramp Funds lacked a structured content strategy catering to the unique needs and preferences of different buyer personas.
Digital Identity Establishment: Crafted a unique digital identity to stand out in the fintech sector.
Targeted Outreach: Developed a strategic outreach plan to connect with e-sellers.
Tailored Solutions: Designed customizable funding options catering to diverse e-seller needs.
Educational Content: Created informative content to educate e-sellers about funding opportunities.
Platform Optimization: Enhanced online platforms to improve visibility and accessibility.
Performance Analytics: Employed data-driven insights to continually refine the strategy.
Conducted industry research and competitor analysis to gain insights into social media marketing strategies
Monitored and reported social media analytics, making data-driven adjustments to campaigns.
Developed effective social media strategies for Facebook, Twitter, Instagram, TikTok, Pinterest, YouTube, and LinkedIn
Collaborated cross-functionally with sales and marketing teams.
Acted as an on-demand resource for last-minute presentations.
Ensured brand consistency across communication channels, maintaining accuracy, quality, and a unified brand identity in the marketplace.
Tracked and collected relevant social media metrics, providing timely and efficient reporting of social media efforts.
Scheduled and posted content on various social channels using both native platforms and social media management tools.
Produced educational content for new e-commerce sellers to lead their business with confidence and trust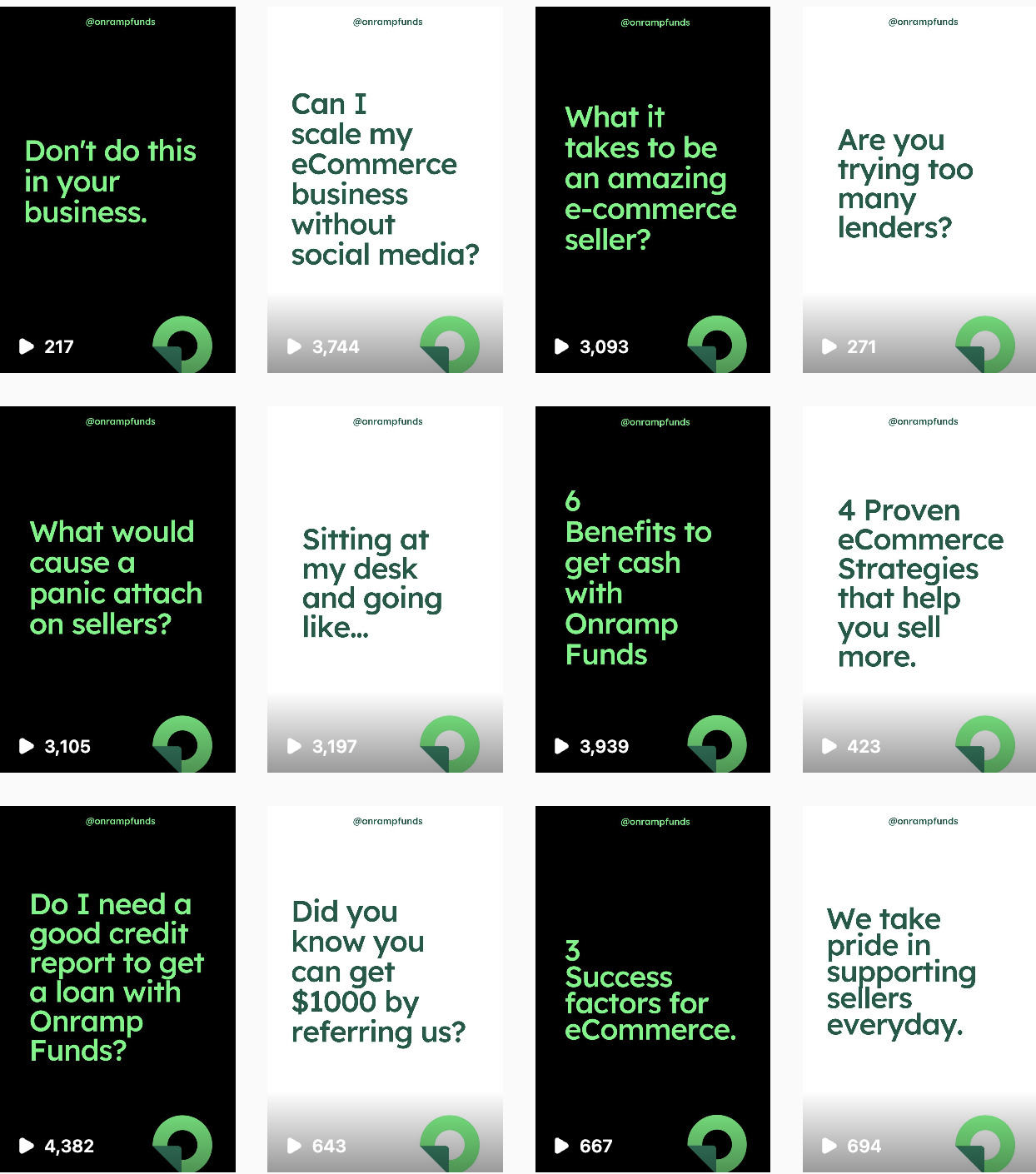 Content Samples for Twitter and LinkedIn
Over the course of ten months, our comprehensive approach led to the successful positioning of Onramp Funds within the competitive fintech funding landscape. By focusing on tailored solutions, educational content, and strategic digital outreach, we achieved significant growth in e-seller engagement and brand recognition, ultimately contributing to the company's long-term success.
Explore Other Cases Studies Here